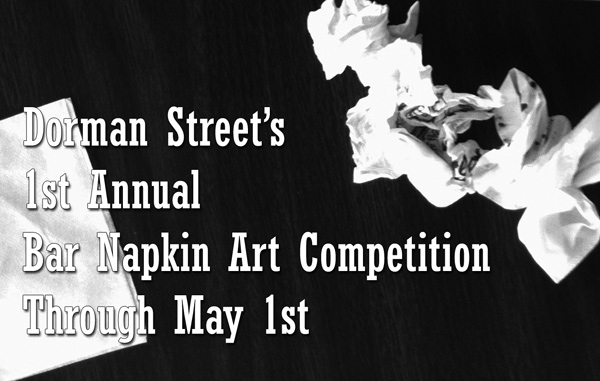 Held at the Dorman St Saloon, 901 Dorman.
Bar Hours are 3 PM to 3 AM, 7 days a week
The Concept: Artists in all Media are invited to produce a Work of Art on a bar napkin during April, 2012. All Completed Entries will be mounted on foam core and displayed on Friday May 4, at the Bar, in conjunction with the May First Friday Gallery Walk. People's Choice voting will determine the winners and Awards will be presented at midnight on May 4, followed by a live auction of selected works.
The Rules:
1. All works must be completed on site, at the bar, between April 6 and May 1. Artists are permitted to bring materials, supplies, and whatever they need into the bar to complete their entry.Artists may prefabricate parts or all of the works, but it must be mounted on the bar napkin on site. You can enter as many times as you wish. ALL WORKS MUST INCORPORATE A BAR NAPKIN IN SOME MANNER, AND HAVE A BASE NOT LARGER THAN A BAR NAPKIN.
2. People's Choice voting for the winners will occur at the Bar from May 2 thru May 4 at 9 PM. As they say in Illinois "vote early and vote often!"
3.Artists are encouraged be present at the Awards Cerimony on May 4 at Midnight in order to win. If you are not personally present your award will be given to the next highest voted piece who's creator is present. The Awards are not going to be disclosed ahead of time, so don' t even start asking those questions... but, you are not going to retire on this award.
4. All submitted works become the property of the Dorman St Saloon. Proceeds from the sale of the works will be donated to a deserving local charity, some works will be retained and displayed in the Saloon.